Share this record
Washington High School Class of 1950 Celebrates its 50th Reunion.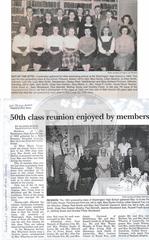 Identifier: 2014.2.161
Description:
The Class of 1950 at Rappahannock High School celebrated their 50th Reunion at the Flint Hill Public House. The class had only 15 members and was the last to graduate from Washington High School.
Use the form below to email this record to a colleague. The title, identifier, description and a low resolution media version will be included in the email.