Share this record
Front Royal Record 1924-Miss Flippo resigns as the 5th and 6th grade teacher at Flint Hill School.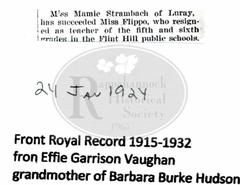 Identifier: 2014.2.40
Description:
Front Royal Record newspaper clipping announcing the resignation of Miss Mamie Flippo as a teacher at Flint Hill School and her successor Miss Mamie Strambach.
Use the form below to email this record to a colleague. The title, identifier, description and a low resolution media version will be included in the email.