Share this record
Culpeper Star-Exponent 1956 article on Sperryville, VA.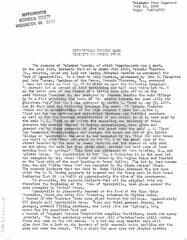 Identifier: 2017.1.298
Description:
Transcription of a 1956 article on Sperryville taken from the Culpeper Star-Exponent. At the time, there were five churches in the town and two more within one mile of Sperryville. The village also had three general stores and a hotel. Fletcher's Mill was still making flour and corn meal. The packing house processed between 125,000 and 200,000 bushels of apples in a good year and the juice plant packed 100,000 cases of juice. Sperryville Elementary School had 365 students and 12 teachers.
Use the form below to email this record to a colleague. The title, identifier, description and a low resolution media version will be included in the email.